Business Services
Make Business Taxes Easy
Running a business is not a simple job; each day, numerous tasks require your full attention. From checking inventory and managing employees to cleaning the building and filing taxes, an owner always has their hands full. As a local CPA in Colorado Springs, Merrill Bennett understands the constant maintenance it takes to successfully run a company. If you find that your business' finances are falling by the wayside, it is time to hire a professional small business tax preparer like Bennett CPA. Let our professionally certified and educated tax strategist optimize your eligible credits and achieve the lowest tax rate possible.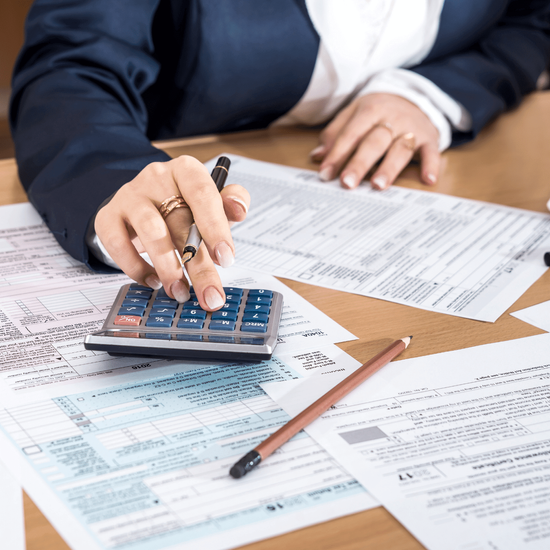 Customized Solutions for Colorado Springs Small Businesses
Taxes and yearly filings are more than just a requirement, they are an opportunity to maximize your business' returns. At Bennett CPA, we navigate through the complicated maze of IRS codes and laws to find the types of tax credits that suit your company and its specific needs. We can evaluate each client and generate a personalized tax plan to address any concerns and liabilities for their specific situation. Our expertise and specialized approach to business tax planning and preparation assist business owners in stress-free tax filing and efficient tax planning.
Our Business Tax Services Solutions
At Bennett CPA, we offer more than just business tax preparation. We work year-round to provide consulting and planning services for small and medium-sized businesses. Your company's tax needs do not stop after the yearly filing. Our additional services allow you to take control of your tax liability throughout the year and save money. Avoid tax sup and common mistakes with our comprehensive tax solutions. We offer semi-annual subscription plans allowing you to connect with our expert tax CPA year-round, with questions concerns, and all things business tax.
Business Tax Planning
Set your business up for success with our personalized tax planning. We outline your tax liability and strategize the best solutions for your company. Never pay more than you need to in income taxes.
Lower your business's tax rate

Claim all available tax credits

Reduce your taxable income

Avoid common planning mistakes

Control your alternative minimum tax
Business Tax Preparation
Save time and let us handle your yearly filing. Know that your returns are completed correctly and on-time with our CPA in Colorado. We keep up to date with new laws and codes to maximize your business's profit.
Income

Cost of goods sold

Expenses

Tax write-offs

Tax credits
Business Tax Consulting
Our customized tax consulting will outline relevant credits that your business qualifies for. In addition, we simplify laws that impact your situation to get the lowest tax rate available. Stop overpaying today.
Deductions

Rental property taxes

Income taxes

Tax write-offs

And more
Small Business Tax Services
As a tax preparer in Colorado Springs, Bennett CPA works with a diverse range of businesses. Not all of our clients have the same filing needs. Every plan, consulting session, and preparation we create varies from situation to situation. As an example, taxes for freelancers are going to be different compared to taxes for a company that has employees. Get started with us today to experience the difference a Certified Public Accountant makes in addressing your business's tax liability.
Sole Proprietors
General Partners
Limited Liability Companies
Small Businesses
And More!
We implement our six core values with every client: clarity, efficiency, simplicity, honesty, integrity, and value. Let us eliminate the confusion of complicated tax codes and streamline your return. Never worry about tax season again with comprehensive and customized accounting and tax services from Bennett CPA. We enjoy building a community of individuals, families, and business owners that we can share our knowledge of taxes with as well as assist them in growing through tax planning and preparation.
Get Started Today with Tax Planning Strategies
Optimize your business's tax liability with professional tax planning strategies and tax consulting services from Bennett CPA. Our business tax consultant will eliminate common mistakes for a stress-free tax experience. Stop paying more than you have to and strengthen your company's filing. As a CPA in Colorado Springs, we have worked with a wide variety of businesses, individuals, and families to develop customized tax strategies that enhance tax returns and save time year over year. Experience the difference with our exceptional CPA in Colorado, hire Bennett CPA today.